Staten Island Children's Museum Offers Art Kits for PreK Students throughout Staten Island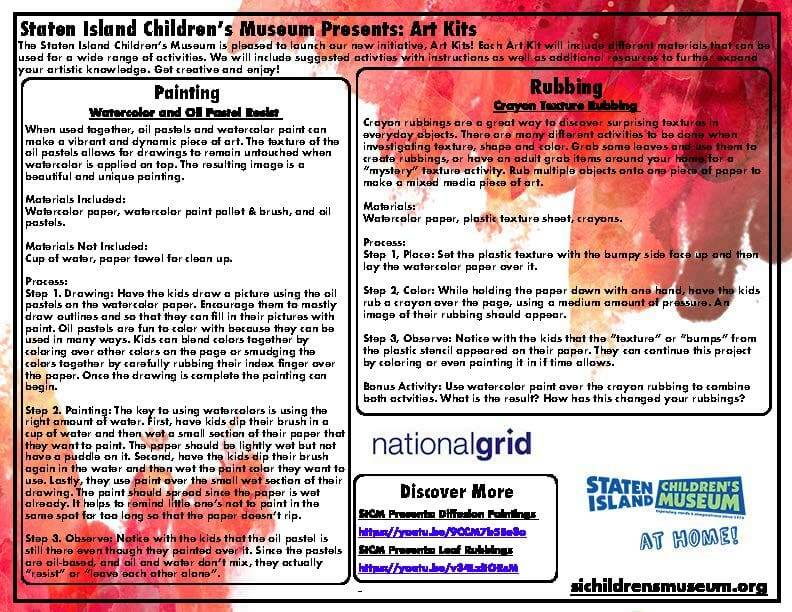 November 11, 2020 – To support PreK students (ages 3-4) who are typically hard to reach through online/virtual classes, the Staten Island Children's Museum is creating a series of art kits to distribute to local schools. The art kits subjects range from reliefs to painting/rubbings to collage and more and include all materials and instructions. Each child receives an art kit to use at home or school as their teacher finds best. The materials in the art kit can be used for other projects as well following the interest of the student.
With support from the Staten Island delegation of the New York City Council and National Grid, the Children's Museum will distribute art kits to more than 500 students. Schools that participate will have the opportunity to have art created with the art kits displayed in grocery stores and community centers. "Displaying artwork from local students lightens up the café and we love to see the pride on kids' faces when they show off their creations," said Kevin Mannix, owner of Mannix Family ShopRites.
Local City Council Member, Steve Matteo shared "This ongoing epidemic has been incredibly challenging for teachers and very stressful for young students. These art enrichment programs will give students an opportunity not just to develop their talents, but also help them express themselves and better cope with all that is going on in the world around them right now. I am very happy to provide these art kits and team with the Staten Island Children's Museum to help make this happen."
"Students are missing out on hands-on learning in the classroom" said Council Member Joe Borelli, "But luckily, we have proactive programs like this one with the Staten Island Children's Museum that not only create outstanding art curriculums, but deliver the material straight to students' doorsteps, and offer direction for teachers and even the whole family to enjoy creating arts and crafts. I am proud to fund this program and can't wait to see their masterpieces posted directly in our district."
Council Member Debi Rose explained "Art is a crucial component to education, fostering imagination and creativity and other important aspects of healthy child development. With the isolation that this pandemic brings, the arts are needed more than ever, but for many children, the arts are now less accessible. Thank you to the Staten Island Children's Museum for working with PS 59 to ensure that children have access to art materials and instruction, and to ShopRite for providing a venue for students to exhibit their artwork. I am proud to have allocated funding for this project, and I look forward to seeing the student artwork at ShopRite and to more partnerships with our local schools."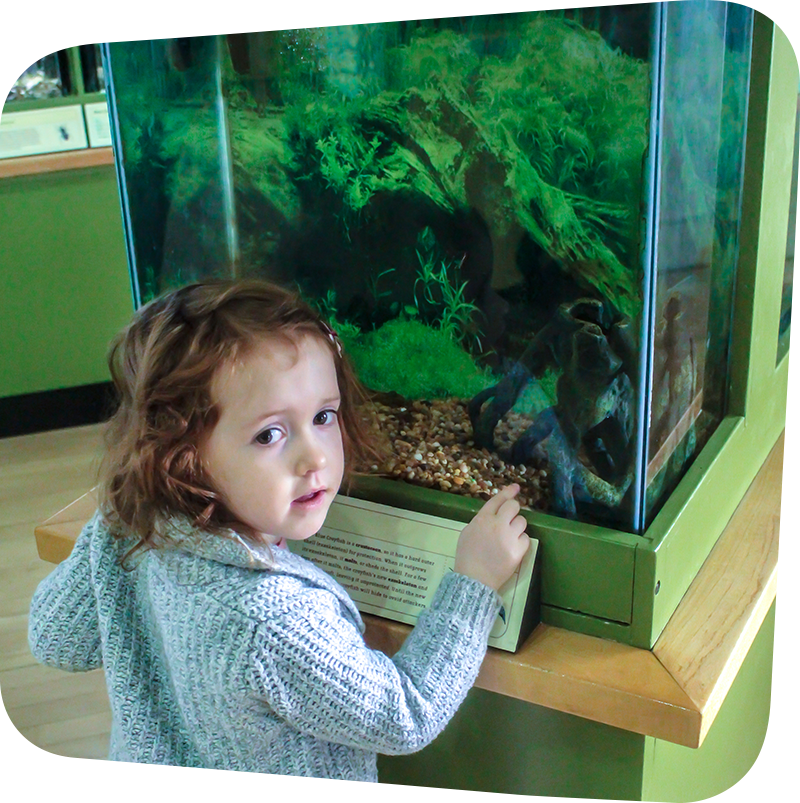 Our Lady Star of the Sea is one of the schools that received a kit. Jeannine Roland, Principal, expressed that "We are grateful for the donation of art kits to all of our Pre K students. During this school year we have dedicated our time and energy to making our school a safe and inviting atmosphere for all students. The art kits provided are a wonderful addition to our already robust PreK curriculum and will assist our PreK students to explore and grow academically, whether they are participating in class or by remote learning. We are truly blessed and grateful for the generosity of the Staten Island Children's Museum and the teachers and I are excited to see what the children create with the kits!"
Public and private schools in each council district interested in receiving art kits for their students should reach out to the Children's Museum's Community Engagement Manager, Jami Kilichowski at (718) 273-5155 or reservations@sichildrensmuseum.org
The Children's Museum has a variety of educational offerings online that can be found on the At Home with SICM webpage. One of their newest types of resources for teachers is a Free Virtual Field Trip featuring a Children's Museum exhibit: each includes an activity sheet, videos, thematic music and links to other related activities. You can also find Printable Activity Sheets with art, science and literacy activities that encourage time spent outdoors and taking a break from screens. Live Online Instruction is available in art or science with a trained Museum Educator at a low cost of $150 for up to 30 students ($250 including materials sent to your school). They offer a 60-minute Zoom or Google Classroom session in topics including: collage, mask making, 3D design, circuits, and properties of matter.
The Staten Island Children's Museum is housed in a building owned by the City of New York and its operation is made possible, in part, with public funds provided through the NYC Department of Cultural Affairs with support from the Staten Island delegation to the NYC Council. Significant operating support is also provided by the NYS Council on the Arts, Corporations, Foundations, the Trustees and Members.